What Kind of Events Do I Do?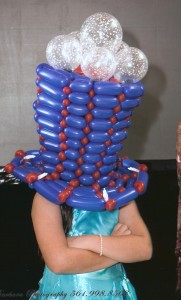 While mostly known for Corporate Parties and Bar/Bat Mitzvahs, there are other event types that we can help make successful are Trade Shows, Hospitality Suites, Sales Meetings, Grand Openings, Product Launches, Client Appreciation Parties, Weddings, Birthdays, Anniversaries and Family Reunions.
What Makes Balloon Masters  Different?
Our entertainers are have the ability to adjust there performance to meet  just about any situation! so that we are always able to give our clients maximum value. With a minimum of Twenty Seven years of performing experience, Balloon Masters knows how to entertain audiences of all sizes and ages. Most importantly, Our clients don't have to worry because they all know that  we are  prepared for anything.
How Can We See Your Entertainers  In Action?
Check out our MEDIA page  to see videos of our staff in action or Come to twelve different restaurant locations in south Florida  Otherwise, you'll just have to crash as many Private and Corporate events as you possibly can… you don't have to look hard to find one of us AMAZING the crowd!
How Far Do I Travel?
We have  performed all over the continental United States (over 20 states from coast to coast) and in Canada, Mexico, Bahamas and Europe. Simply put, Balloon Masters  will travel just about anywhere to make people SMILE.
How Long Do The Balloons Last?
Balloon Masters only uses top quality balloons and his balloon creations will typically last between 1-4 weeks depending upon the types and sizes of the balloons used. Balloons will hold their shape significantly longer if they are kept cold and away from the sun. Many smaller balloons will last for years if stored in the freezer. Freezer or no freezer, the pictures and videos of your guests with their balloons will last a lifetime.
How Many Different Balloon Creations Can You Make?
With enough balloons and time, Balloon Masters can literally make ANYTHING! Yes, he can even make the word "ANYTHING." In other words, WE  are only limited by the imagination of the person requesting the creation. Sometime we have multiple balloon master at events.  What do YOU have in mind?
What Are Your Fees?
Our  fees vary significantly depending upon the specifics of your event. Factors such as location, date, length of performance,how many performer, type of performance, amount of preparation time and travel expenses all influence my fees when customizing performances for your unique event. Please call or send us an information request form and we will provide you a quote as soon as possible. We look forward to hearing from you!