Dawn Wells – Mary Ann from Gilligans Island.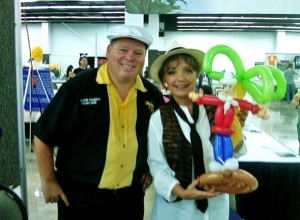 Trade Show Balloonist
Our balloons are a great noninvasive entertainment that will be an icebreaker; marketing tool to create client lists and traffic stop at your next trade show event.
We Accomplish this 3 ways:
WE STOP TRADE SHOW TRAFFIC

We understand that there is only a 30 second window to attract potential clients to your area! By pre-making 20 of my most popular balloon creations (Cartoon Characters such as (Sponge Bob, Bugs Bunny and Scooby Doo or Life Size balloon Sculpture) We decorate your booth and setup a raffle give-a-way collecting contact information to be used for email and news letters.

DELIVERING YOUR COMPANY MESSAGE IN A FUN MANNER

Clients watch in amazement as we manipulate several balloons in to astonishing latex sculptures. while providing quick-witted, good-natured comedic comments as well as providing information about your services or products and branding your logo in with the giveaways, educating customer with you company message And distributing your cards and brochures with the balloon creation

BRANDING YOUR COMPANY LOGO THROUGHOUT THE TRADE SHOW

We incert your logo in with these one of a kind balloon creations;giveaways, that will attract  admirers to your booth / table area as well as circulate the event , while others ask, "

Where did you get that balloon ?" 

Of course they are going to have to direct them to your booth – that is what trade show booth entertainment is about, drawing clients to your booth for Maximum Exposure!
You Can't Afford Not to Have BalloonMasterz
Our rates are extremely reasonable considering the average cost of travel,Booth, advertising your business with brochures, banners raffles & freebie giveaways. It only makes sense to hire a professional entertainer to maximize the traffic for sales at your next , trade show/ expo
BalloonMasterz is your Marketing Jeannie!!