The Zany Magical Balloon Show!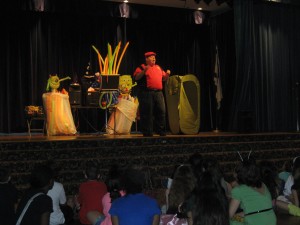 The balloon guy has created an exciting, wild and raucous good time for the whole family with this interactive experience.
This performance has physical comedy, music, magic, choreographed dance with motion, and of course the most fantastic balloon creations ever!
Kids and adults will marvel as Bobby manipulates balloons into the most fabulous balloon sculptures right before their very eyes. 
During the show, Bobby selects both kids and adults as balloon assistants, which adds fun and excitement to the show – not just for the kids but for the adults as well.
For the grand finale, Bobby performs his spectacular Novelty Act!

6 foot Balloon escape

with the balloon barrage. This is where every child gets their own balloon bopper!
Bobby bombards the audience by shooting pre-inflated colorful, oversized torpedo balloons at your kids.
They will be scrambling, running, and jumping in the air to catch these fabulous colorful balloons to music.
The balloon barrage is a perfect ending for this hilarious fun filled one-hour show!
BASIC BALLOON SHOW
GREAT FOR SMALL PARTIES AND BIRTHDAYS.

IT IS AN ACTION PACKED  SHOW BROUGHT

RIGHT INTO YOUR HOME or classroom…

30 MINUTE  SHOW




AUDIENCE PARTICIPATION & INTERACTIVE




 

AMAZING BALLOON TWISTING


GREAT MUSIC THROUGH OUT SHOW




1 PRE- MADE SPECTACULAR BALLOON CREATION

SHOW RUNNING TIME 30 MIN.  $250
Upgrade YOUR

BALLOON SHOW
GREAT FOR FAMILY PARTIES or Summer camps and school assemblies .

45-60 MINUTE  SHOW




AUDIENCE PARTICIPATION & INTERACTIVE




AMAZING BALLOON TWISTING


GREAT MUSIC THROUGH OUT SHOW

DANCING WITH MOTION


TERRIFIC MAGIC




3

PRE- MADE SPECTACULAR BALLOON PRIZE CREATIONS

THE SIX FOOT  BALLOON ESCAPE NOVELTY ACT  or BALLOON BARRAGE FINALLY

60 INFLATED COLORFUL  BALLOON TORPEDO BOMBARDING THE AUDIENCE

SHOW RUNNING TIME 60 MIN.  $500.00